What is Flywire?
Flywire is an international payments provider that provides flexible payment methods for 220 countries. Flywire offers competitive rates for you to convert currency and transfer your funds to a new country.
Depending on where you are paying from, Flywire will allow you to:
Make payment in your local currency
Make payment via credit card, debit card, or any other local payment method
Initiate a bank to bank transfer at preferential rates
How do I make payment through Flywire?
Instead of starting your payment process directly from Flywire's website, use your personalised link to make your payment. There are two ways to find your personalised link:
1. Head over to our app in iOS, Android, or on the web. Click on "make a payment" and select Flywire.
2. Find this link on page 2 of your monthly statement. It looks like this: https://www.flywire.com/pay/prodigyfinance.
NB: Don't let your payment get lost! You must use this link to start the payment in order for us to locate your funds.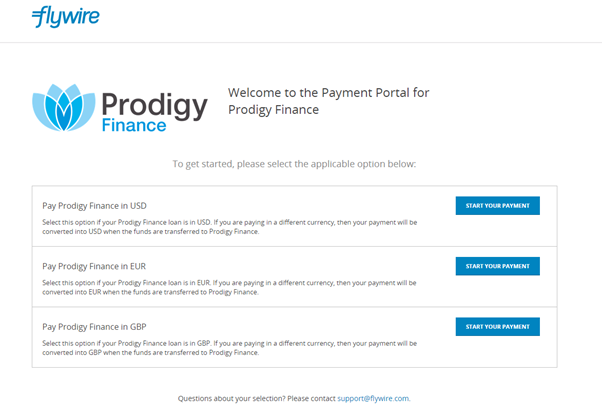 Do I have to use the link provided on my statement?
Yes. This is Flywire's way of tracking and allocating all payments for Prodigy Finance. If a payment is not done through the link provided, Flywire is unable to reference the payment and we will not receive the funds.
How long does it take for the payment to reach you?
Once the payment has been initiated, it will take between 5-12 days for the funds to arrive with Prodigy Finance. This is due to the extra time needed to make international payments.
Who do I contact if I experience challenges with making payment on Flywire?
While we can try our best to advise you with some of the typical issues, our team aren't able to resolve issues related to Flywire payments.
In such cases, it is best to contact the Flywire customer support team on support@flywire.com
If your query is unresolved with Flywire, you are more than welcome to reach out to us on payments@prodigyfinance.com and we will do our best to help.